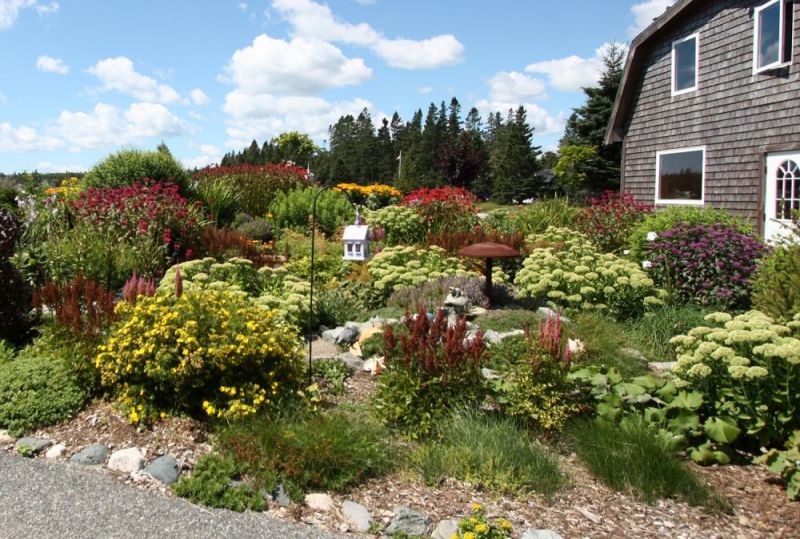 Coastal Maine well-maintained perennial garden
How Maintaining Your Landscape Can Save Money and the Environment
A Spring blog post
Five ways a well designed and maintained landscape can save you money and improve your environment.
We all know that a well maintained landscape can provide aesthetic benefits and enjoyment. It can also serve as an extension of your home as an outdoor living space for recreation, relaxation, and entertaining family and friends while also improving the overall value of your property.
The landscape can also provide economic and environmental health benefits which may not be as apparent, but may be as, or more important than the obvious positive visual effects of a green freshly mowed lawn and neatly pruned shrubs.
Here are five of these benefits:
A well designed and maintained landscape can add as much as 15% to the re-sale value of your home. By spending 5% of the total value of a home on a quality landscape, the resale value can jump by as much as 15%. That would be considered a great return on your investment at any time, let alone in a challenging economy.
Properly selecting and installing trees and shrubs can lower your heating and cooling costs by as much as 20% annually. Shade trees, foundation plantings and wind breaks, can moderate the temperature in your home year round. A household can save between 150 and 250 dollars each year by adding three properly placed trees.
Plants can improve air and water quality. One tree can remove up to 26 lbs of CO2 from the atmosphere annually. Lawns, trees and shrubs can also reduce erosion by holding the soil in place, thereby reducing the sedimentation of nearby streams and ponds which can have a negative effect on the ecosystem as a whole.
 Studies have shown that well maintained residential landscapes and common spaces play a role in strengthening community ties and also deterring crime in these areas, creating healthier and safer neighborhoods.
Properly selected and placed trees and shrubs absorb sound waves and can significantly reduce unwanted noise pollution. In conclusion, the benefits of a well designed and maintained landscape are many and cover a wide range of issues. The homeowner should be aware of these facts in order to make the best possible choices for both economic, environmental and aesthetic reasons. It is therefore very important to choose a landscape professional that has demonstrated the knowledge and experience to guide you when making decisions about your landscape and to help you achieve your goals, save you money and protect the environment in the most cost effective way possible.
Please contact us to schedule a complimentary landscape analysis to assess the health and appearance of your lawn, trees and shrubs.